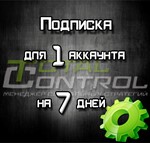 Total Control - a program manager for strategic games.
The exact list of supported games and social networks to specify the site.

Subscription allows you to use the Total Control functionality with no restrictions on the period and the number of accounts listed in the name of the subscription.
Subscription is activated once and in a single match! Reactivation is impossible. If the vehicle at the time of activation of the number of accounts is less than or equal to the nominal count of accounts in the subscription - the face value will be credited to all accounts, but the reactivation will not be possible for missing accounts, if any (ie you purchased your subscription at 5 accounts in base 3 - face value credited to them all but nominal 2 "will burn" - to re-enroll for them will not be).
If accounts more - will have to pick your jackdaws.

After the purchase of the code can be obtained immediately by returning to the seller page.
The code is a text string.
If you bought the code, and then could not find the code, returning to the seller page, or by clicking the link in the mail - that page on oplata.info, where you leave a review and contains your code. You physically can not get it because it is in the form of a text string in the middle of the same page.
====================================================
Dear customers, big request after receiving the goods, please leave your review!
====================================================
If for some reason you were not able to see the product page - visit oplata.info. At this address, safely store all the goods purchased by you and you can always access them after the purchase.
If you have a any problem with the item purchased from us, or have questions - contact us (details on the link "More information on the seller").
All the useful links are available at:
http://rassvetmedia.ru/
12.04.2019 16:39:34
работает.
18.01.2017 15:55:33
все гарно, продавець-молодець
09.06.2016 16:28:44
все супер
26.03.2016 12:39:19
не вижу пин код который купил на неделю.где он?

04.03.2016 18:41:02
в товаре нет логина и пароля,всё слитно
26.02.2016 14:49:30
нормалек, все работает.
19.12.2015 10:15:58
хорошо
12.12.2015 7:06:21
всё хорошо, спасибо, всё подошло!!! было бы не плохо если бы были какие нить акции!!!
25.06.2015 15:47:41
отлично... все просто супппперррррр...