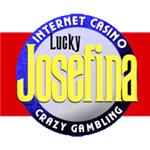 Voucher for gaming account at an online casino Lucky Josephine at
http://crazygambling.ru
By purchasing a voucher, you will receive an email voucher code that must be entered in the gaming account using the instructions attached to the voucher. Then you can immediately start playing in an online casino, and input-output means to your account through the payment system Interkassa.
Casino gambling includes dozens Flash games for real money: roulette, poker, blackjack, thimble, bingo, slots game Garage, Cupcake. A large percentage of wins, daily bonuses of 5 rubles.
This adds to the expense of a voucher for 500 rubles. Also available are vouchers nominal value of 1000 and 3000 rubles, you can buy them in our store (ebookseller.ru).

To play in the casino lucky Josefina required to register online casinos and get a WebMoney purse for IO money to your account.

For casino gaming account, do the following:

1. Log in to the casino at crazygambling.ru

2. Make sure that the game mode is included in the WMR-account.

3. Click the link Add WMR-account and go to the page refill WMR.

4. Type in the Transfer voucher code obtained.

5. Click Enroll.

Note the voucher code can be transferred only once.

In case of problems on transfer write to the administrator casino.
No feedback yet