Content: text (17 symbols)
Available: 10
Uploaded: 12.05.2019

Positive responses: 3
Negative responses: 0

Sold: 120
Refunds: 0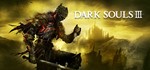 Immediately after payment, you receive a unique key for activation on Steam </ delivery>Activation: Steam
Region: Russia, Ukraine and CIS countries
Localization: Russian (subtitles)
Publisher: New CD
Developer: FromSoftware, Inc.
Release date: 04/12/2016 </ attention>
******************
Features:
******************

When the flame fades, and everything turns to dust, you are waited for a new journey into the world, full of incredible opponents and grandiose locations. The abyss of unique gameplay and gorgeous graphics will swallow up veterans and beginners alike. And there will be only coals ...

• Atmospheric graphics. Dynamic lighting and effects using particles, will load players into the atmosphere of a gloomy dying world.
• Comprehensive world. A masterfully designed world of game encourages the exploration of huge exciting locations.
• Dynamic battles. A variety of combat capabilities allow players to develop their unique battle style.
• A unique online game system. A new stage of evolution of the branded online component, elegantly complementing the story of a single-player game.
12.06.2018 11:14:40
Ключ пришел, спасибо
11.06.2018 12:06:47
Все хорошо. Товар получил. Уже активировал качаю)))
26.05.2018 22:19:57
Всё активировалось. Спасибо.