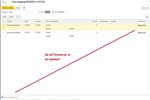 In some releases of the PMU of the editorial board 3.1, the following error appears: in the document "Holidays of employees" there is no possibility of entering the unauthorized leaves on the fly.

The bug has been fixed in the releases: 3.1. 5.212, 3.1. 6.37.

Error number on support 1C: 10192559

This hotfix is supplied as a configuration extension.

Applying the patch does NOT require a configuration change, which means it´s enough to just plug it in and the error will disappear.
No feedback yet