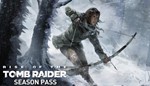 Steam addition to the game Rise of the Tomb Raider - Season Pass DLC (region of Russia)
After payment you will be redirected to the site where our robot will send you an invitation to friends, accept it and immediately receive this addition as a gift.
- Our robot can send the game if you have a "Russia" in the region of the steam store.
- This product can not be placed in inventory, you can only activate the account.
- This content requires the base game Rise of the Tomb Raider in order to play.
- Delivery is carried out in automatic mode.
No feedback yet