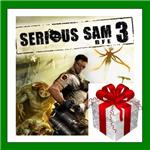 Serious Sam 3: BFE - Steam Gift RU-CIS-UA

Warning: game can be activated only in one of the following countries: Russian Federation, Armenia, Azerbaijan, Belarus, Georgia, Kyrgyzstan, Kazakhstan, Republic of Moldova, Tajikistan, Turkmenistan, Ukraine and Uzbekistan.
27.03.2019 5:59:34
Все прошло отлично
24.03.2019 20:00:00
Спасибо!
07.12.2018 18:44:13
Порадовали и цена, и скорость доставки игры. Теперь остаётся только получать удовольствие, ввязавшись по самые уши в приключения вместе с Сэмом.
А получить за это ещё и дополнительный подарок - вообще счастье:) хочу
10.11.2018 19:53:20
Сработано быстро и качественно! Игра активировалась сразу и без проблем! Спасибо продавцу! Сейчас с друганом пойдём ломать лица инопланетянам)
08.11.2018 14:19:30
Всё отлично!
Хочу подарок :)
03.11.2018 16:39:02
Игру получил
28.10.2018 10:34:23
Продавец просто молодец, все супер!!!
28.10.2018 10:33:59
отличный Продавец.... просто супер.
14.09.2018 16:47:21
Thank you very much
24.07.2018 19:41:24
всё быстро и хорошо!
Хочу подарок)