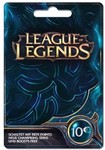 10 EUR League of Legends US Game Card for EU West/Nordic East servers.

***GUARANTEE MoneyStream - MORE THAN 9 years at Plati.ru***

Activation:
1. Login to the game
2. Push Store Button
3. Then Purchase RP button
4. Choose Prepaid Card
5. Paste card number and push Redeem
Bonus for your positive feedback!
Buying League of Legends Game Card from us, you get a number of advantages:
1. Instant depositing - payment League of Legends Game Card you will instantly receive a code which you can immediately use;
2. You can use League of Legends Game Card as you want for example you can pass, sell, give to friends, acquaintances;
- Our company has more than 9 years Moneystream exhibited at plati.ru
- More than 47,000 sales and 12,000 positive feedbacks!
- Moneystream has VIP status plati.ru and "passport Merchant WebMoney Transfer"
- Effective significant cumulative discount.
List of all our items and contact information can be found here:
http://moneystream.plati.ru/
If you were satisfied with the goods you can tell others about it leaving positive feedback.
30.09.2018 11:33:34
Все пришло, спасибо)
22.11.2017 12:42:11
Купил,тут же пришёл код, тут же получи РП. Спасибо.