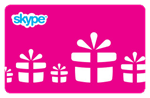 USD 10 Skype Credit will give you access to useful features Skype.

Calls to mobiles and landlines around the world
call forwarding
Sending SMS to other countries
Access to the Skype Wi-Fi
Any user with a Skype account can activate the Skype voucher anywhere in the world. voucher currency will be converted into the currency of Skype account, for which the license is generated.
How to activate the voucher:
1. To do this, you need to log in to your account on the Skype website.
https://secure.skype.com/wallet/account/voucher
2. Enter your voucher
3. Place the box next to "I accept the Skype Terms of Service" and click on "to use the voucher."
  Balance Skype Credit will be updated within 15 minutes.
Thank you for your purchase.
No feedback yet