Content: Korukov_A._V_ognennoi_kupeli.epub (1.53 MB)
Uploaded: 29.04.2017

Positive responses: 0
Negative responses: 0

Sold: 0
Refunds: 0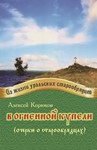 In his essays-reflections the author draws a parallel from the schismatics of the 17th century to today´s Old Believers, describes the life of his relatives and fellow countrymen, adherents of the old faith. The book includes selected poems by Alexei Koryukov.
Sign of information products 12+
Series "From the life of the Ural Old Believers"
No feedback yet