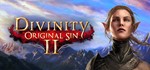 Steam Game Divinity: Original Sin 2 - Definitive Edition (region of Russia)
After payment, you will be redirected to the site where our robot will send you a friend invitation, accept it and immediately receive the game as a gift.
- Our robot can send the game if you have a "Russia" in the region of the steam store.
- This product can not be placed in inventory, you can only activate the account.
- Delivery is carried out in automatic mode.
04.07.2019 18:03:52
нормас
29.06.2019 2:08:18
хоть и сэкономил совсем немного, около 60 рублей, все равно приятно :) доставили в течении минуты
28.06.2019 23:48:48
Рекомендую
11.06.2019 16:35:35
Благодарю
10.06.2019 16:34:53
Классный продавец! всё сразу пришло!
08.06.2019 7:42:49
Товар пришел очень быстро
07.06.2019 18:14:03
бодренько
01.05.2019 20:09:38
Все отлично товар получил