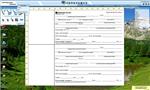 The program is designed to automate the process of creating, correcting and filling forms printed forms and documents.

Payer 2.0 - little specialized graphics editor that allows you to quickly create blank forms and documents correctly and accurately display the graphics on paper.


There is no need to search and / or purchase of printing plates. Now you can develop them yourself!
Immediately after payment you will receive a form to fill in the registration data, which will have to fill the following fields:

- Full Name;

- E-mail address (email);

- The login name;

These data will be transferred to the seller to complete the transaction of sale of goods.
No feedback yet